Dominique and Alan Darcy first visited La Conner in spring of 1994; it was love at first sight. A little more than a year later they opened Two Moons Gallery, in February 1996.
Our gallery is called "Two Moons" because we were both born in July, and this makes us "Moon Children". We have both always loved the image of a full moon reflected on the water.
Dominique was born in Versailles and raised in Paris, France, where she became an accomplished sculptress. Moving to the States as a young woman, she has lived in Sausalito, Hawaii, New York, and Los Angeles where, for many years, she had an active practice as a psychotherapist. She retired from this career upon moving to the Pacific Northwest.
Born and raised in New York City, Alan has been a teacher at both university and pre-school levels. He had a long and varied career in the music business as a singer/songwriter, publisher, and marketing executive. He "retired" in 1994.
With their unique backgrounds, and an equal love of beauty and humor, the Darcy's felt they could create a different kind of gallery environment and selection; to create a truly unprecedented mix of fine crafts and contemporary art with elegant yet practical gift items, many of which would feature a "serious touch of whimsy".
We are happy to help you find what you are looking for; and our very friendly staff is ready to provide information, options and (should you desire) suggestions to satisfy you to the best of our ability. We look forward to assisting you whenever you call or visit.
shop our faves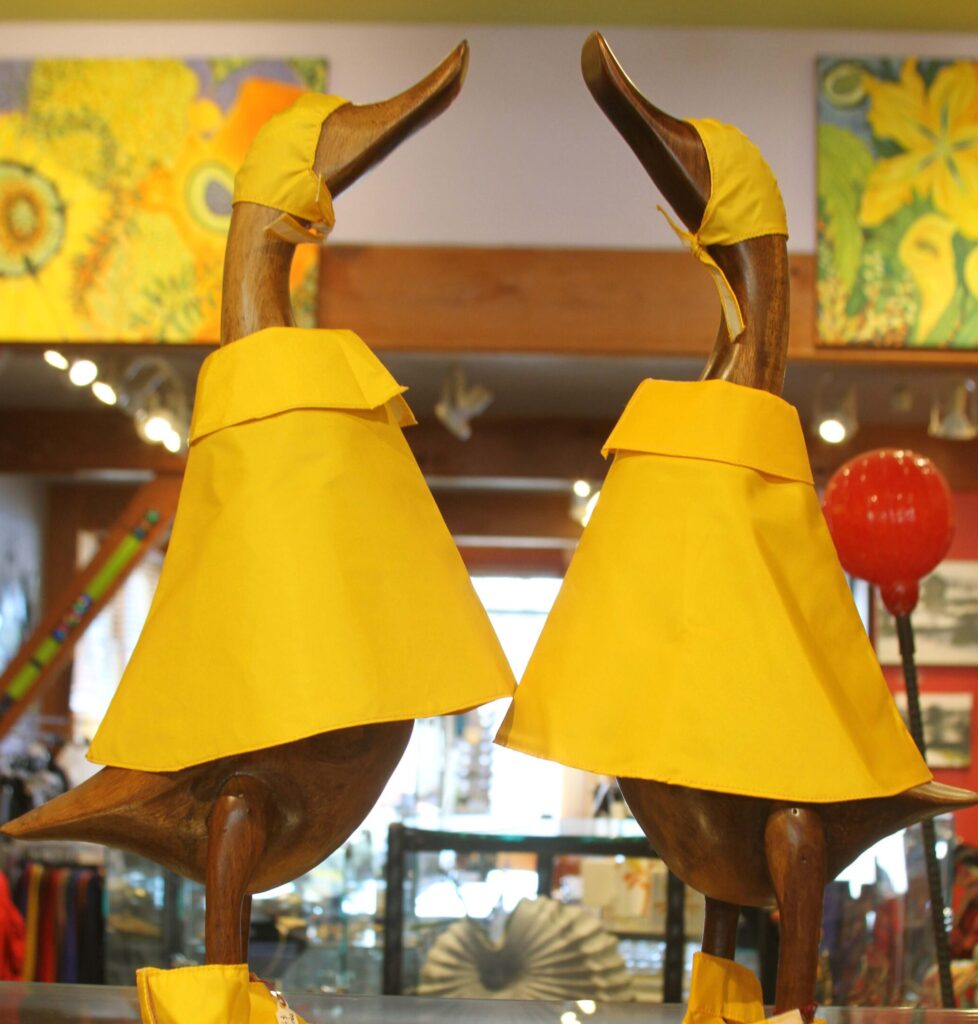 Selection:
While we like to emphasize local and regional work, we also represent artists and craftspeople from the Pacific Northwest, North America, and from countries around the globe. We hand pick every item in our store with all ages and occasions in mind.
Gift Certificates:
Available in any denomination, certificates may be used to purchase any items on this site or in the gallery. Come by or call us with the recipients' name, address, and phone number. Gift certificates will be mailed to recipients or to you as per your instruction.
Gift Registry:
We love to be part of our client's rhythm of life and celebrate their milestones with them.  With our registry service you can select any or all the things you've been wishing for.  Contact us to register, and we will be happy to work with you and yours to select the perfect gifts.
Payment:
Our gallery accepts cash, gift certificates, debit and credit cards.  For any mail orders we are happy to accept American Express, Visa, MasterCard, Debit Cards, Cashier's Checks and Money Orders.